Scent Free Shea Aloeganic is a premium Organic Ugandan Shea Butter whipped with organic Aloe Vera, Coconut oil and Avocado oil.
The quick absorbing formula is perfect for hands, elbows, knees and feet. Its intense moisture deeply hydrates, nourishes and revitalizes skin cells.
Feed your skin with this vegan butter that has 0% water, alcohol and no chemicals.
Every jar is freshly handmade in small batches & made in Canada
Scent Free Nilotica Shea butter- 100% Organic Premium Ugandan Shea Butter. Shea Nilotica Shea butter is a miracle cream with healing properties for problematic skins especially eczema. It's rich in vitamins A & E and fatty acids that penetrate, hydrate and moisturizes ALL SKIN and HAIR types. For centuries Shea Nilotica has been used as an anti-aging and anti-inflammatory cream. Shea Nilotica Butter is gentle and absorbs easily into the skin.
Massage all over body to experience softer, deeply moisturized skin and hair.
Shea Aloeganics: Nilotica Shea Butter, Coconut oil, Avocado oil, Aloe vera
Face Oil: Nilotica Shea Oil, Avocado Oil, Chocolate scent
Nilotica Shea butter: Shea Butter
Moisturizer-Many of the volatile acids in this oil are able to be absorbed by the skin quite easily, helping to trap moisture and keep your skin healthy and your cells functioning properly.
Antioxidants-The antioxidants in this oil are excellent for any form of oxidative stress or inflammation, meaning that it can help prevent free radical activity in the body, including slowing the onset of wrinkles on the face
Acne-With good levels of vitamin C, vitamin A, and antioxidants, this oil can help to clear up acne symptoms. Shea oil, being a non-comedogenic, can also help eliminate the blockage in the pores by improving the balance of moisture and oil on your skin.
Customer Reviews
05/10/2021
E H.

Canada
I recommend this product
Sherabo products
Love it, as always. A little goes a long way and easily absorbed. Have bought them for my siblings, and also given as presents to friends.
07/02/2020
Naomi G.

Canada
I recommend this product
Great products
These products are amazing and they arrived really fast! Highly recommend.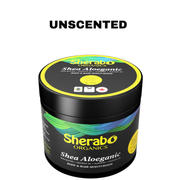 07/02/2020
Justine W.

Canada
I recommend this product
Beautiful products
Delicious scents, lovely products