Shea Aloeganic is a premium Organic Ugandan Shea Butter whipped with organic Aloe Vera, Coconut oil and Avocado oil. Its intense moisture deeply hydrates, nourishes and revitalizes skin cells. Feed your skin with this vegan butter that has 0% water, alcohol or chemicals. Apply this beautiful butter is the most sought after. Apply it head to toe and enjoy its calming Coconut Lime scent.
Use as a body moisturizer head to toes.
Use as hair moisturizer, anti-freeze or conditioner on all hair types.
Caution- Use sparing on straight hair
Shea Aloeganic Skin Benefits
This Shea butter is skin food loaded with vitamins A,E, F and anti oxidants therapeutic properties that will problematic skin (Eczema & Psoriasis) to its youthfulness.
It deeply hydrates and nourishes dry flaky skin, cracked heels & hands. Consistent use of it will give you a soft glowing healthy youthful skin
Shea Aloeganic's cinnamic acid esters protects the skin from UV rays
Feed your skin with this vegan butter that has 0% water, alcohol or chemicals.
It improves skin pigmentation, skin tone & stretch marks on pregnancy bellies.
Apply this beautiful butter head to toe and enjoy its calming coconut Lime scent.
Every jar is freshly handmade in small batches & made in Canada
Hair Benefits
It conditions, nourishes and adds moisture to dry brittle, dull damaged hair
Shea Aloeganic is an excellent hair moisturizer for African & Curly hair.
The Aloe Vera adds shine and for healthy hair growth.
Shea Butter
Organic Aloe Vera
Coconut oil, Avocado oil
Coconut Lime scent
Customer Reviews
Patrice G.
Canada
I recommend this product
Liouba R.
Canada
I recommend this product
09/14/2020
The Best Moisturizer
I have been using the Sherabo products for two years and they are simply the best. The skin is left feeling silky smooth and the cream is whipped making it very easy to apply. I also used the product during my entire pregnancy and had no stretch marks.
ST
Sabra T.
Canada
Mary H.
Canada
07/30/2020
Beautiful. But should come with a warning
I bought this from Olivia at the gluten free expo in Vancouver and have used it for my face and body. It's so luxurious but made with ethical and sustainable ingredients. But be warned: Once it's on your skin, you are in danger of finding yourself sniffing your arm far too many times a day as the scent of this product is so natural and beautiful. The butter lasted several months and I have just ordered a new pot.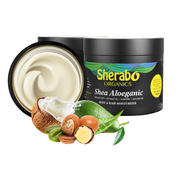 Anny L.
Canada